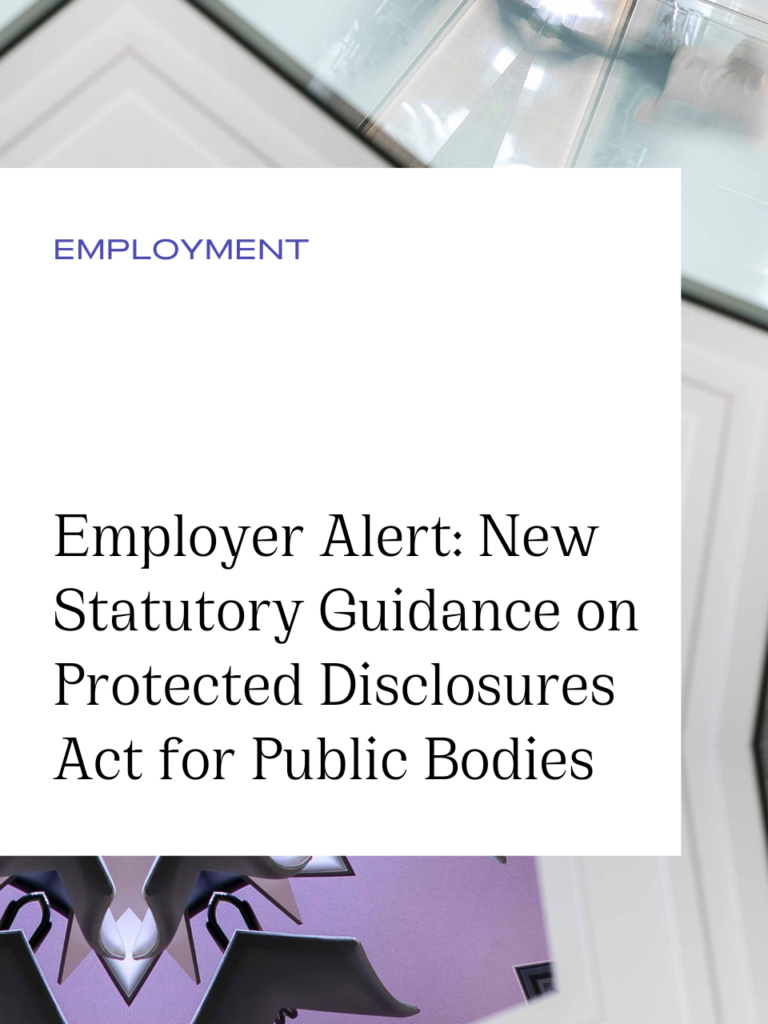 Employer Alert: New Statutory Guidance on Protected Disclosures Act for Public Bodies
On 20 November, Minister for Public Expenditure, NDP Delivery and Reform, Paschal Donohoe TD published new Statutory Guidance for Public Bodies to assist them in the performance of their functions under the Protected Disclosures Act 2014 (as amended).
Background
The Protected Disclosures Act 2014 was amended from 1 January 2023 by the Protected Disclosures (Amendment) Act 2022 (the "Amendment Act").
For an overview of the changes that the Amendment Act imposed, see our previous briefing here.
New Statutory Guidance
Prior to the changes taking effect, the Government published an interim guidance for public bodies and prescribed persons on the handling of reports made to them under the Protected Disclosures Act 2014 (as amended) (the "2014 Act"). Our detailed review of that interim guidance is available here.
The Guidance published yesterday supersedes the interim guidance and, at 150 pages, is twice its length. It will be of significant assistance to public bodies navigating all aspects of their obligations under the protected disclosures regime, including:
establishing reporting channels
acknowledging, assessment and follow-up
feedback to a worker
implementation and review of procedures
annual reporting
It includes template policies for public bodies to adapt and to use in developing their internal reporting procedures and for prescribed persons to use in developing their external reporting procedures.
While the Guidance is intended to support public sector bodies in meeting their obligations under the 2014 Act, private sector employers coming within the remit of the obligations imposed by the Amendment Act, may also find some of the material in the Guidance helpful.
Our Team will consider the content of the Guidance and publish a detailed summary in due course.
Additional Updates
The Minister also signed an Order ( S.I. No. 524/2023) updating the list of persons prescribed to receive protected disclosures under the 2014 Act. A summary of the changes to the list of prescribed persons is available at www.gov.ie.
Finally, private sector companies with 50 or more employees must establish internal channels for reporting wrongdoing by 17 December 2023. Our recent briefing on this upcoming deadline is available here.
For more information on complying with your obligations under the 2014 Act, please contact a member of the Employment Group.
The content of this article is provided for information purposes only and is not legal or other advice.