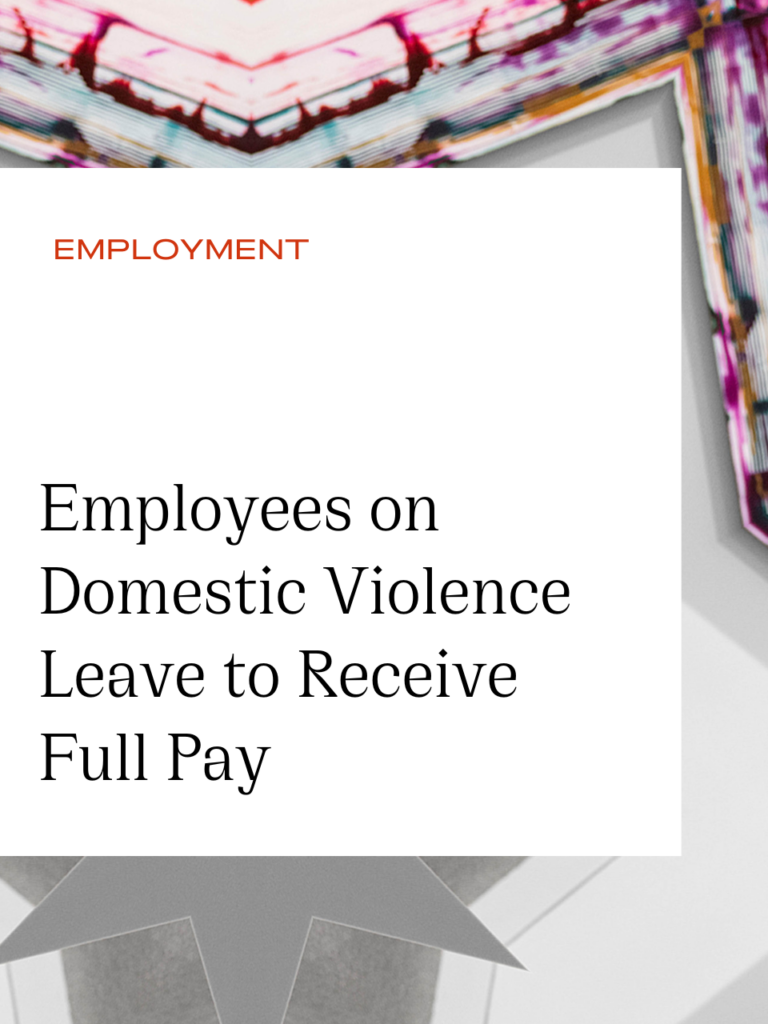 Employees on Domestic Violence Leave to Receive Full Pay
The Government has announced that employees who avail of domestic violence leave will be entitled to their full pay.  Once in force, Ireland will be one of the first EU countries to introduce paid domestic violence leave.
Domestic violence leave was introduced by the Work Life Balance Miscellaneous Provisions Act 2023.
Regulations necessary to bring the leave into effect are expected to be published this autumn and will contain further detail on how the rate of pay will be calculated.
It is also expected that templates and supports will be made available to employers to enable them to develop domestic violence policies.
In a workplace setting, this issue must be handled with the utmost sensitivity.  As such any guidance and support will likely be greatly welcomed by managers and HR practitioners.  
Domestic Violence Leave
Domestic violence leave is to be provided under a new section 13AA in the Parental Leave Acts 1998 to 2023 ("Parental Leave Acts"). Employees will be entitled to up to five days paid leave in a 12-month period and there is no mandatory service requirement. There had been uncertainty as to whether employees availing of the leave would be entitled to full or a reduced rate of pay. It has now been confirmed that it will be full pay.
The leave is to enable employees experiencing domestic violence to:
seek medical assistance;
obtain services from a victim services organisation;
obtain counselling;
relocate temporarily or permanently;
seek legal advice or assistance;
seek assistance from the Garda Síochána; or
obtain a safety order from the courts.
Eligibility for domestic violence leave extends to an employee who is assisting a relevant person to access or obtain the supports outlined above. A relevant person includes a spouse, dependent child, or cohabitant.
Significantly, domestic violence leave can be applied for retrospectively after the employee has taken the leave. An employee will be required "as soon as reasonably practicable" after taking the leave, to notify their employer using the prescribed form of the dates on which the leave was taken.
Employers should be aware that the employee will not be obliged to provide any documentary evidence in support of their application.
Protection of Employment Rights
While an employee is on domestic violence leave, they must be regarded for all purposes relating to their employment as still working – none of their employment rights should be affected. As a result, the employee will continue to accrue annual leave and be entitled to public holidays during the period of leave.
Redress
Employees who propose taking or who have taken domestic violence leave are protected against penalisation under the Parental Leave Acts. Penalisation includes the dismissal of an employee, unfair treatment, including selection for redundancy and an unfavourable change to conditions of employment.
The maximum award under the Parental Leave Acts that can be made in favour of an employee who has been penalised is 20 weeks remuneration. Alternatively, where the penalisation was dismissal, an employee can take a claim under the Unfair Dismissals Acts 1977 to 2015, under which the maximum award of compensation is 2 years remuneration.
Records
Employers are obliged to maintain a record of domestic violence leave taken by its employees noting the period of employment of each employee and the dates on which they took the leave. This record should be retained for a period of three years.
Future Changes
The Work Life Balance and Miscellaneous Provisions Act 2023 also provides for a number of other employee entitlements which are expected to come in to force in the coming weeks. These include the introduction of a right to request flexible working arrangements for caring purposes and the right to request remote working. Further details on these aspects of the 2023 Act are set out in our briefing: Work Life Balance and Miscellaneous Provisions Bill 2022 goes to the President to be signed into law – Arthur Cox LLP
If you have any questions in relation to the proposed introduction of domestic violence leave or any other aspect of the 2023 Act, please contact a member of the Employment team at Arthur Cox.