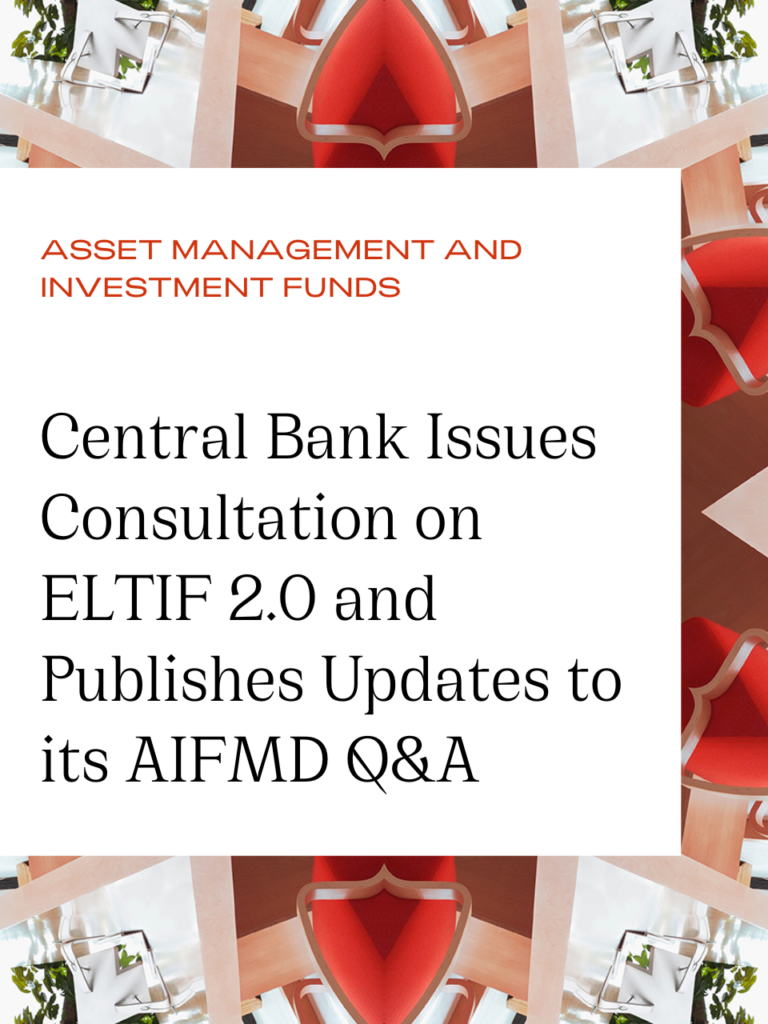 Central Bank Issues Consultation on ELTIF 2.0 and Publishes Updates to its AIFMD Q&A
Central Bank Consultation Paper 155
European Long-Term Investment Funds ("ELTIFs") are specialised EU alternative investment funds ("AIFs") that are intended to provide for investment in certain long-term investment opportunities.
In anticipation of the welcome changes at EU level to the ELTIF regime that are due to take effect on 10 January 2024 ("ELTIF 2.0"), the Central Bank of Ireland (the "Central Bank") has issued its Consultation Paper 155 on a proposed new ELTIF chapter to be included in its AIF Rulebook ("CP155").
A copy of CP155 is available here.
For more information on the key features of ELTIF 2.0, please see our recent briefing here.
As previously indicated by the Central Bank in September, the ELTIF will be a standalone product and will not need to be separately authorised as a RIAIF or a QIAIF. Accordingly, the Central Bank proposes to add a new dedicated ELTIF chapter to its AIF Rulebook that will cover the following six topics:
ELTIF restrictions;
supervisory requirements;
prospectus requirements;
general operational requirements;
annual and half-yearly reports; and
marketing of ELTIFs to retail investors in Ireland.
In CP155, stakeholders are asked to confirm if they agree with the proposed rules under each of the above headings and are invited to provide any further comments on these topics. It is expected that industry will raise a number of comments on the proposed text, to ensure that the ELTIF 2.0 reforms allow the ELTIF to realise its true potential.
The consultation will run for a shortened period of six weeks and will close on 13 December 2023. Submissions may be made electronically to [email protected].
Further details on the authorisation process for an ELTIF are expected to be provided to industry in due course. At EU level, the European Securities and Markets Authority ("ESMA") is considering responses received to its consultation paper on draft regulatory technical standards ("RTS") on ELTIF 2.0. The RTS will provide further detail on certain aspects of ELTIF 2.0, including the redemption policy and life of ELTIFs, matching of secondary market transfer requests, disposal of assets and costs disclosures.
Updates to the Central Bank's AIFMD Q&A
On 1 November 2023, the Central Bank published the 48th edition of its AIFMD Q&A, with new and updated Q&As.
The updated AIFMD Q&A is available here.
ID1156
The Central Bank has clarified the process for an investment limited partnership ("ILP") to obtain an exemption from the European Union (Qualifying Partnerships: Accounting and Auditing) Regulations 2019 pursuant to Section 15(1) of the Investment Limited Partnerships Act 1994 in order to prepare the financial statements of the ILP in accordance with GAAP or other accepted accounting standards, amongst other things.
A general partner that wishes to obtain such an exemption must: (i) ensure that the limited partnership agreement provides that the ILP's sole business is the investment of its funds in property with the aim of spreading investment risk and giving its partners the benefit of the management of its assets; (ii) request the exemption in its letter of application for authorisation; (iii) confirm in its letter of application for authorisation the basis on which the financial statements of the ILP will be prepared; (iv) disclose that the exemption has been obtained in its prospectus; and (v) disclose the basis on which the financial statements of the ILP will be prepared in its prospectus.
Existing ILPs that wish to avail of this exemption should contact the Central Bank via email.
ID1084
The Central Bank has amended its previous Q&A, which provided that loans to wholly owned subsidiaries established by QIAIFs in accordance with the requirements of the Central Bank are not regarded as a breach of the prohibition on the granting of loans to which all AIFs, other than loan originating QIAIFs, are subject. The amendment clarifies that, where a QIAIF lends to a co-investment vehicle in which it has a majority interest, such lending will not be regarded as a breach of the prohibition on granting of loans, provided such lending is ancillary to the QIAIF's predominant investment strategy.
To discuss any aspect of these updates further, please get in touch with your usual Arthur Cox contact.